TODAY IS THE DAY — Hats protoDAO has launched! 🧢💥
This launch marks a major step in our commitment to decentralizing the governance & operations of Hats Protocol.
What's the purpose of Hats protoDAO? And how can you join the Hats Community and get involved?
Read on!
Hats protoDAO Purpose
The Hats protoDAO exists to 1) create and steward the best possible organizational primitive for roles, and 2) explore and curate the vast design space of how to use the protocol to solve real problems. It does this by:
establishing valuable connections between members of the ecosystem,

developing net new functionality for the ecosystem around the protocol, and

governing the commons.

As a precursor to a true DAO, Hats protoDAO will set the foundations of 1) a strong network and 2) effective mechanisms for governance & reputation.
These will serve as the catalysts & basis for a world-class DAO that can govern the Hats Protocol commons for decades to come.
How to Get Involved
To join the Hats Community and get involved, claim your Hats Community Member hat here.
There you'll discover ways to contribute and stay updated as the protoDAO continues to evolve.
Over time, some Community Members may deepen their engagement to become Active Contributors and eventually Stewards.
Hats Stewards are responsible for collectively governing the shared resources of the protoDAO and supporting the progressive decentralization of the project.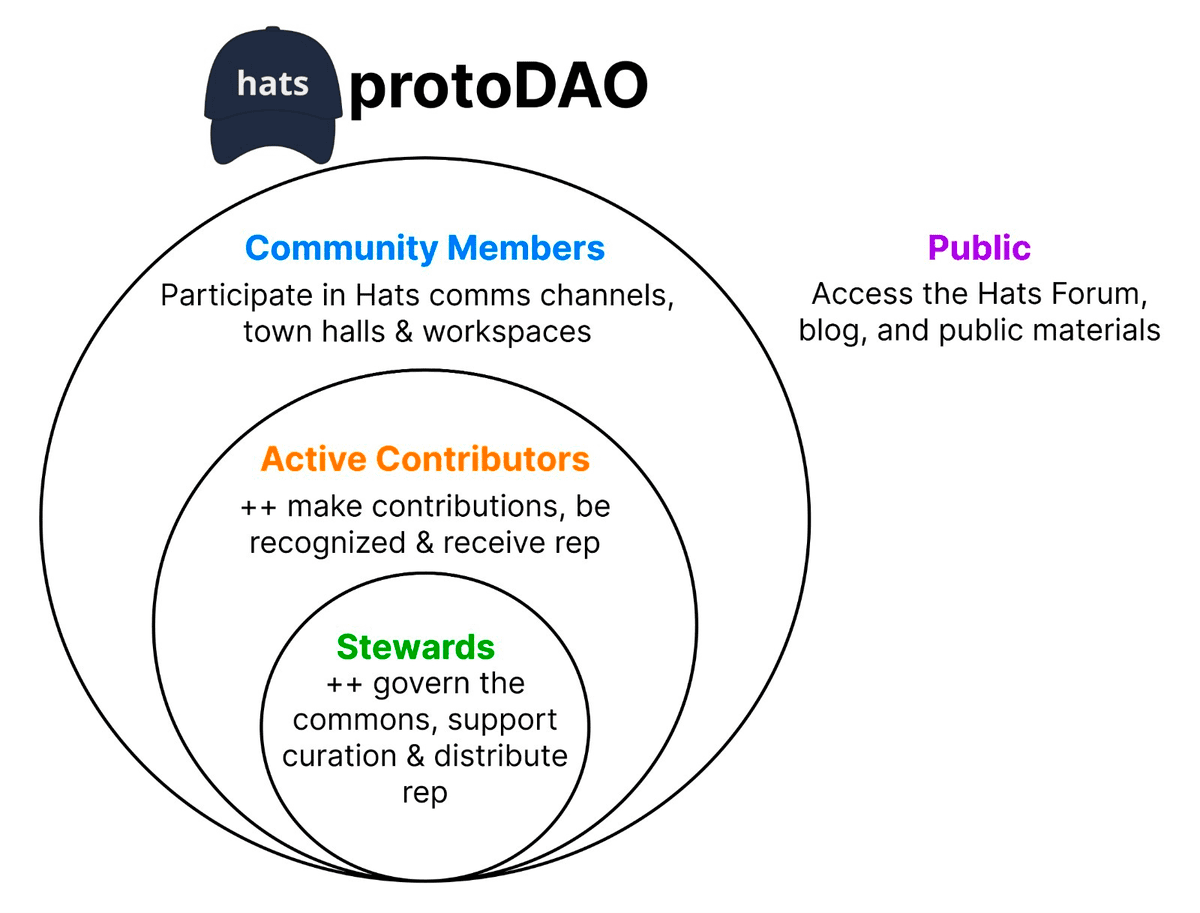 We're honored to have an incredible set of founding Stewards, including @0xd2_eth @0xKaty @0xNN2 @0xRetro @Bmulligan56 @BryanPetes @cryptohun3y @dan2hunt @davehrilchman @ddwchen @gershido @JonathanHillis @_juliettech @mybellalogica @ProseEleven @scottrepreneur_ @shelby_steidl and @spengrah.
We're also grateful to our Active Contributors for their awesome contributions in the early stages of the project, including @clinamenic @homanics @KyleSt4rgarden @more_reese @topocount and @zachobront.
And finally, to our incredible community of hat wearers, builders, and contributors -- thank you thank you! A sincere tip of the cap to you all.
Hats protoDAO Season 1 starts today. Grab a hat and join in here.